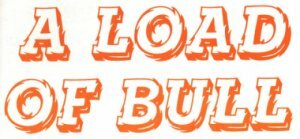 ALOB (A load of Bull) is a Wolves Fanzine with 'An Alternative View of Wolverhampton Wanderers', it has been running for over 10 years. ALOB is made up of fans articles, sketches and views and is a great way to cheer yourself up after a bad defeat or on a rainy day!!
If you are interested in buying ALOB you can subscribe by sending a cheque for £11.50 payable to "A Load Of Bull" to the address below and the next 6 issues will be mailed to you direct. Rates are £11.50 for 6 issues, £15.00 Europe and £20 Rest of World (Check prices with ALOB incase I forget to update these!). You must state which issue number you wish to start from and don't forget to include your address.
P.O.Box 3483
Birmingham
UK
B17 9SF
Another way of buying ALOB is on match days on the Corner of Waterloo Road and Billy Wright Stand, the Wanderer Pub car park, Top end of Waterloo Road and inside & out the Hatherton pub. Also there are sellers wandering around outside various stands.
Thanks to Satish Patel for supplying me with the above ALOB's